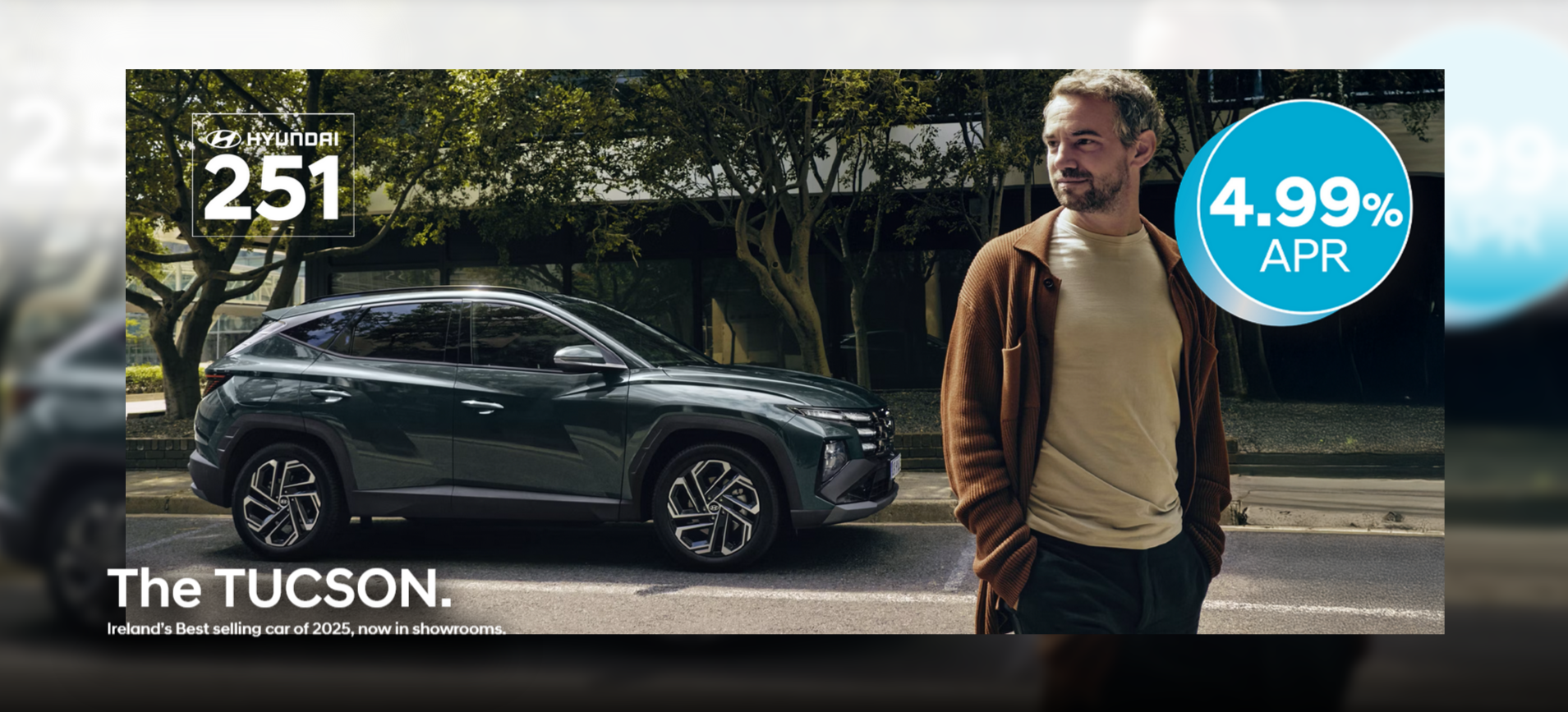 221 Hyundai Tucson Offers
Get 3.9% Finance when you order your new Hyundai Tucson before December 31st. Now available in Diesel, Hybrid & Plugin Hybrid, it's no wonder the Hyundai Tucson is this year's bestselling car.
BOOK your 221 sales appointment with the team at Doran Motors today. We have secured plenty of stock for the new year & will be offering it on a first come, first serve basis. Top prices given on ALL trade-ins.
Book your sales appointment here or call us now on 042-9662266
The power of choice.
When it comes to embracing positive energy and finding a better way to move forward, look no further than the All-New Hyundai TUCSON. In addition to its revolutionary design and a wide array of safety features, the All-New TUCSON comes with a choice of three progressive powertrains – diesel, hybrid and plug-in hybrid.
The All-New TUCSON
As exciting in looks as it is to drive, the All-New TUCSON delivers better right across the spectrum. Its strikingly designed front wing with parametric hidden lights makes every journey outstanding, no matter the destination.
The All-New TUCSON Hybrid
The All-New TUCSON Hybrid is more than the perfect balance of bold and sleek aesthetics; it also offers dynamic and fuel-efficient performance at every turn. Its 6-speed automatic transmission guarantees smooth gear changes and a fuel-efficient drive. The spacious interior, ambient lighting and panorama sunroof ensure you're just as comfortable on the inside as you look from the outside.
The All-New TUCSON Plug-in Hybrid
Maximum fuel efficiency without compromising on the beloved SUV feeling makes the All-New TUCSON Plug-in Hybrid the definition of a better way forward. Its powerful and efficient powertrain lets you choose between petrol and electric when it suits you most, for low-emission mobility. Additionally, a 7.2 kW on-board charger means whether at home, or at the office, finding a place to conveniently recharge is never far away.
The All-New TUCSON Plug-in Hybrid N Line
You make a statement of efficiency with a plug-in hybrid. Choosing the motorsport-inspired N Line trim adds a statement of performance. The N Line offers dynamic styling, optional Electronically Controlled Suspension, and a combined petrol and electric motor output of 265 PS.
FAQ
There are different options for different lifestyles. A plug-in hybrid can provide electric-only power for short commutes, with the flexibility of having a conventional petrol or diesel engine for longer distance driving. If you live in a rural area or simply want to use electric power to go further on a litre of petrol, then a hybrid might be the right choice. Whereas a mild hybrid might be the right choice for those looking to reduce emissions and improve their fuel economy during everyday commutes or weekend getaways.
Plug-in hybrids (PHEVs) give you the best of both worlds. Electric when you want it. Petrol when you need it. They can be conveniently charged via a regular home wall socket, with many drivers choosing to have a wall-mounted charging point installed at home for faster charging. Alternatively, when you're out and about, PHEVs can be easily charged at ever-increasing public charging stations in your local area. Once the electric-only range is depleted, the PHEV switches seamlessly back to the petrol or diesel engine so you can go as far as you need to – and plug in to recharge later.
While the environmental benefits of emissions-free driving are clear, there are also other advantages. Plug-in hybrids can be conveniently charged at home meaning you're never out of fuel for short distances. Hybrids reduce overall fuel consumption, are generally more environmentally friendly than traditional cars and because the battery charges while driving, you'll save time in petrol stations as well as money. Whereas mild hybrids deliver excellent fuel economy while lowering emissions without having to compromise on performance.